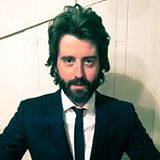 Luca Schieppati was born in Italy in 1979. After the high school he graduated in Industrial Design at the Politecnico of Milan. He lives and works in Milan. He has 8 years of experience in teaching design and graphics design at the European Institute of Design (Milano) and Accademia Galli (Como). With some of his projects he participated in important national and international design shows such as "The New Italian Design" in Milan and Madrid, "Milano Made in Design", Beijing and Shanghai, "Festival of Creativity" in Florence, "The sign of designers" in Milan.
In 2007 he had been one of the testimonials of the competition "Muoviti" with Roberto Giolito and Marco Lambro, in December he became part of the Triennale Design Museum at the Triennale di Milano with the evolution of his project Ciclo'.
In 2010 he presented two projects: CICLOTTE, a design exercise bike, during the "Salone del Mobile" in Milan, this project was then exhibited at the "Maison Object" in Paris, at the "Venice Biennale" and at "100% Design" in London, and the project Lluvia Elegance, thermal massage bed exhibited at "Cosmoprof" in Bologna.
From 2006 he devoted himself to his studio an industrial design/engineering oriented studio, as a designer his action deals with art, product and graphic production utilizing both traditional skills and the use of state of the art computers. He originally specialised in the provision of 3D product visualisation and animation, as his base interests grew he expanded to include video production and ultimately, the creation and supply of full-blown, highly visual, interactive solutions.